Swipe to the left
30 October 2019
1684 Views
There are many classifications of fabrics used for upholstery of furniture. One of them is featured by smooth and fleecy texture. The second one includes velveteen, velvet, flock and velour. The materials are very similar indeed, but at the same time they have crucial differences.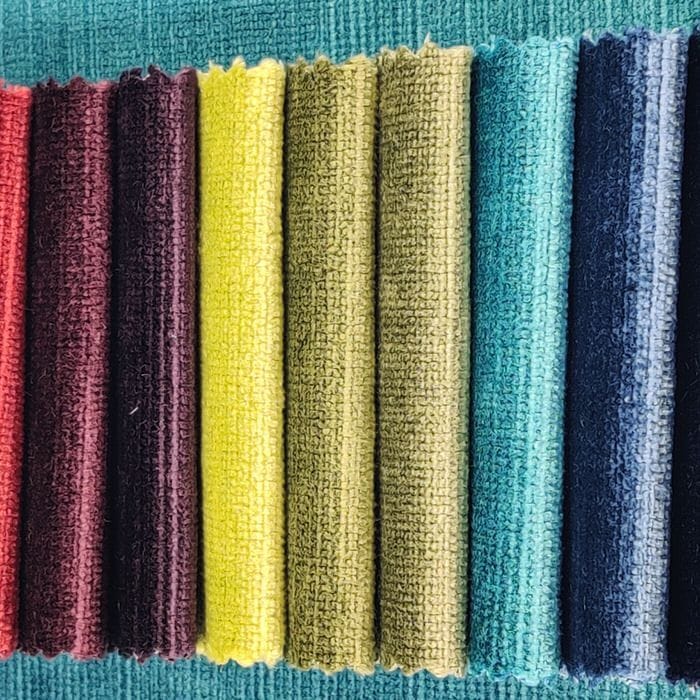 Velvet
Velvet is a natural material formed by weaving five strands, usually silk ones. Four of them form the basis, and the fifth is cut off, turning into a short pile. Velvet looks very impressive, so it is used for the manufacture of clothes, curtains, interior elements. However, this fabric is not very suitable for furniture upholstery, since it will not last long with everyday use.
Velvet is not elastic. It quickly fades in the sun and requires an attentive care. For example, it can only be washed by hand in cold water, and stains can only be removed with the help of dry cleaning services.
Velour
Unlike velvet, velour furniture includes not only natural fibers, but also synthetic ones, which increases wear-resistance. Usually, velour is made from wool, but for the furniture production is used velour with the addition of artificial threads. Another difference between velour and velvet is that velour has a longer pile, and the fabric itself is much softer.
Finally, manufacturing technology is different. It is called the pile-based: small loops are made on the basis, which remain intact or cut. Natural velour is often used to produce clothes. But for the furniture production, the mixed fabric is much better. It is also used in production of covers for car seats.
Velveteen
Velveteen is a well-recognized fabric, because it has not only a pile, but also a hem separating it. Initially, velveteen was made from cotton, but the development of synthetic fabrics, artificial threads began to be used for better wear-resistance. Today, velveteen is often a combination of cotton and polyester. Nylon can also be added to the pile threads.
Velveteen, designed for upholstery, is treated with special compounds that give additional properties. For example, they neutralize electrostatics, increase strength and provide dirt-repellent ability.
Flock
Flock also resembles velvet, but it costs much less. In addition, the production method is drastically different. Flock is a non-woven material. It has a base, natural or synthetic, and a pile attached to it. Typically, the flock used in the furniture industry has a mixed composition: a natural cotton base and a pile of polyester.
Frequently, flock is used in the manufacture of upholstered furniture and interior elements. The material varies in thickness, pile density, so it can be used both as upholstery, and, for example, for the production of curtains or bedspreads.
Any kind of material has its advantages and disadvantages, so it is important to determine your own wishes and understand the conditions under which the fabrics will be used before buying them. Moreover, our online shop can guarantee the high quality of any product from the range.