Swipe to the left
30 October 2019
865 Views
Velour is a very popular fabric used for upholstery. It is highly appreciated for its soft texture, pleasant tactile sensations, and shimmering appearance. We invite you to our online shop of Italian fabrics to buy high-quality velour, designed for furniture and interior elements.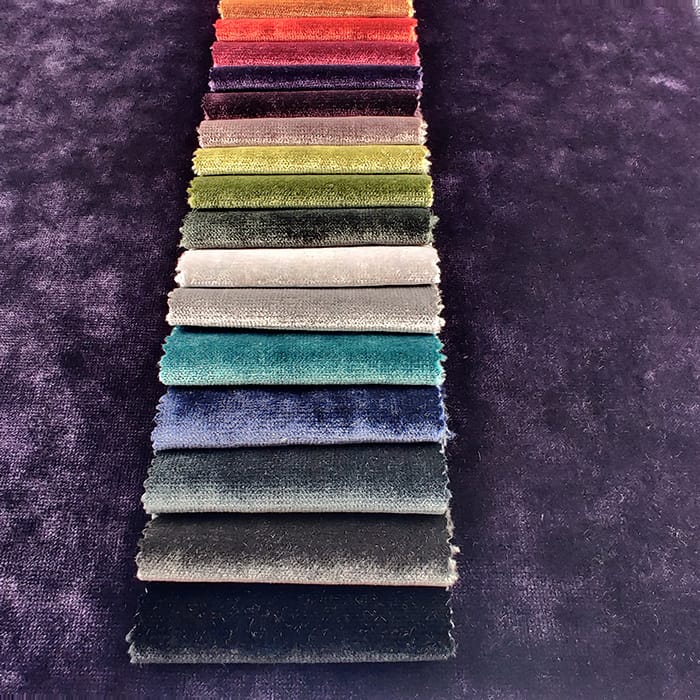 Fabric properties
Original from French, the word "velour" means "velvet". It really reminds velvet by its smooth tender and slightly furry texture. Initially, velour was made exclusively of silk threads and was used for the production of noble clothes, with golden and silver threads woven into the canvas.
Nowadays velour is not so expensive, but still brings the impression of exceptional aesthetics. Velour for furniture contains synthetic threads in combination with natural ones. Often it also includes stretch, which gives elasticity. There are several types of velour depending on the composition and type of threads:
• Cotton is a natural, soft, hypoallergenic fabric, but of low wear-resistance, therefore it is used only for the production of clothes, basically for children.
• Woolen is a fabric made of cloth spun of pure wool with long piles. One of its varieties is velour or "drap" velour from French, obtained from merino sheep wool. Such materials are used for the manufacture of outerwear and hats.
• Natural velour is made of leather, which is mostly used in haberdashery industry.
• Synthetic velour involves the addition of artificial threads, such as polyester, polyamide, viscose and others.
One of the main features of velour is the variety of decor. For example, the pile can be of different lengths, shades, with a different slope, due to which, the surface of the fabric gains picturesque patterns.
Advantages and disadvantages
There are multiple advantages to use velour for furniture. This is a very beautiful material that looks dignified and rich. In addition, it is practical, not difficult to care for, with antistatic properties. It is hypoallergenic and resistant to ultraviolet radiation.
The main disadvantage is a rather high price: it costs more than many other materials used for upholstery. In addition, we will not recommend velour to pet owners, especially the ones with long haired: the pile will be quickly clogged with pets' fur, and it is not easily removed.
How to use and clean velour?
The material can be used in almost any interior, but it looks its best in classic and empire styles. It is especially good to use in complex designs, with bends, screeds, twisted details. Such decoration way reveales the best features of velour, its ability shimmer in the sunlight.
For cleaning, you will need a vacuum cleaner, because, despite the antistatic properties, the dust settles deep in fibers. It would be nice to sometimes refresh the surface using a steam iron. You can use the same device for disinfection. If the dirt is ingrained, use a special roller for velour, but remember that the material should not be rubbed too much. It is better to wash old spots with soap, and then carefully remove them in the direction of the pile.