Swipe to the left
30 October 2019
1313 Views
Hessian fabric frequently recalls an image of sackcloth in people's minds: crude, unattractive material. But hessian produced in a contemporary way resembles it only slightly. This is a high-quality, environmentally friendly material, suitable for interior design in eco-style. It is possible to purchase Italian hessian in our online shop: a premium-class fabric with a textured design, suitable for upholstery and interior decoration.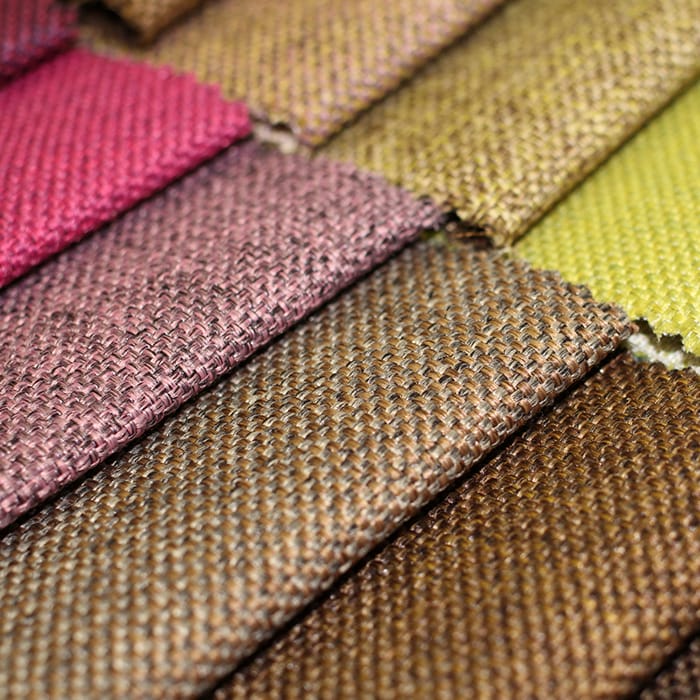 What is hessian?
The main distinguishing feature of hessian fabric is double or triple interlacing of threads. As a result a pattern, formed on the surface, resembles a chessboard. Once this material, for the production of which the cattail plant was used, was exploited exclusively for economic purposes: bags and knapsacks were made from it. Today, hessian fabric in the interior is an excellent design solution, an absolutely natural, environmentally friendly material.
Hessian usually consists of linen, cotton, wool or silk; in some cases, synthetics are added, such as acrylic and polyester. All threads are well dyed, so hessian is characterized by a variety of colors, which, including the unusual texture, becomes a basis for non-standard design decisions. Hessian is often used by designers if it is necessary to create an eco-style in the interior or design a room in the Provence style. It is used to produce upholstery for furniture, curtains, table linen, bedspreads, rugs and pillows.
Advantages and disadvantages
Hessian is popular, first of all, for its natural texture and ability to keep warm. Despite the fact that the material seems very light-weighted, it is very strong, as it is not so simple to tear down, mostly due to high stretching. It does not cause allergies, can be used children products. Moreover, this material is quite affordable.
It is important to keep in mind that the fabric has a special texture, suggesting the presence of gaps between the fibers. If a sharp object gets into them, the appearance of a scratch is inevitable. In this regard, we do not recommend using hessian as upholstery, if there are animals in the house.
Care guide
In general, the fabric is not demanding, however, to maintain its attractiveness, it is better to follow some rules:
• Dust is easily removed with a vacuum cleaner.
• Stains can be wetted with a sponge dipped in soapy water.
• Do not use chlorine cleaners, bleaches: they can change the color of the fabric.
• Upholstery may fade in the sun, so do not place your furniture close to windows.
We invite you to our online shop for purchasing a natural, high-quality Italian hessian of any color to bring a note of creativity, coziness and comfort to your home.